A kitchen is the heart of your home. Therefore, it is worth investing in it. If you want to redesign your kitchen, we are here to help. Preplanning is essential whether you want to improve its utility or modernize it.
This blog covers expert kitchen remodel tips to ensure a successful redesign project. So, keep reading to learn how to make your kitchen more attractive.
5 Expert Kitchen Remodel Tips
1. Establish a Reasonable Budget
Before you begin your kitchen redesign, you must create a reasonable budget. Determine how much you can comfortably spend. Allocate funds for various cabinets, appliances, flooring, and lighting. Consider setting aside money to cover any unforeseen costs. These expenses may develop throughout the renovation process.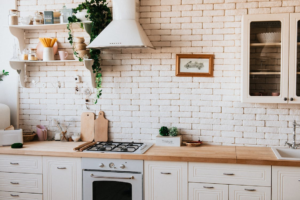 2. Prepare the Layout
The arrangement of your kitchen has a significant influence on its functionality. Assess your current space and consider how you can optimize its arrangement. Pay attention to the appliances, work areas, and storage spaces.
Go for a layout that allows for easy movement and supports efficient workflow. It would be best to seek the advice of a professional kitchen remodeling service in Bronx to design the space.
3. Prioritize Storage
Ample storage is vital for maintaining a clutter-free kitchen. Create a list of your storage requirements. These should include cupboards, shelves, and pantry space. Consider innovative storage solutions such as pull-out shelves, built-in spice racks, and vertical dividers.
4. High-Quality Materials
Investing in high-quality materials is critical for a long-lasting and visually pleasing kitchen. Choose long-lasting cabinetry, countertops, and flooring materials that sustain frequent use.
Research different options and compare prices before you select materials. Also, look for appliances that fit seamlessly into your kitchen's design while offering the features you need.
5. Pay Attention to the Lighting
Proper lighting can improve the feel of your kitchen while also assuring functionality. Use task, ambient, and accent lighting to create a well-lit area. Another option is to install under-cabinet lighting to brighten areas of work. Alternatively, you can invest in puck lights which are battery-operated stick-on lights.
Final Word
Do you require kitchen remodeling in Bronx, NY? Look no further than Golden Touch Renovation! We have a team of expert designers who have successfully performed countless home renovation projects. We also offer floor installation and roof repair Bronx. Get in touch with us today!